We left DC on Wednesday night after an extensive sightseeing tour and headed for Philadelphia, the place where some important American history making had taken place a few hundred years ago.
We didn't get to Philly until late so there wasn't anything on the agenda for Wednesday night, but checking in to our wonderful little B&B and maybe going out for a drink.

Check out the room. Isn't it amazing.
If you ever plan on visiting Philadelphia and you are looking for a wonderful place to stay, check
La Reserve
. The little B&B is furnished with antique pieces. Each rooms' interior is unique, their staff is very friendly and the breakfast is amazing. They bake all their own scones, pastries and muffins. Very very yummy and so good I had to give them a mention on my blog.
Thursday was reserved for Philly sightseeing, which again can easily be done in a day. A very tourist friendly place with all sights within walking distance (I am mentioning this a lot as my husband and I hate sitting in cars a lot while trying to discover a place whether it's a city, national park or any other place worth visiting and along our journey we got bitterly disappointed at some point. We do however like using public transport as it isn't as stressful as driving in an unknown place....)
So anyways we went to see Penn's landing, Philadelphia's waterfront area, Independence Hall, Liberty Bell Benjamin Franklin's House (well where it once was....) Carpenter's Hall, Thomas Jefferson's house and many other places.
Some random streets in Philadelphia. The city has a very relaxed feel to it.
Independence Hall, this is where the declaration of independence was signed for those who didn't know...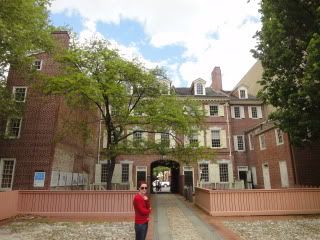 Liberty bell
Husband posing with cool military ship and submarine. Unfortunately for him we didn't go in/on it due to lack of time but this wasn't the only military/navy piece of history that crossed our path and he got his boy sightseeing tour later on along the journey.
Me in front of a cute paddle boat. This would have made a great background for showing off a new creation but it was another cold day. The sun was doing it's best but the wind just wouldn't let me dress up and be comfortable. But at least I match the boat, right?
I had been to Philadelphia before but this is 10 years ago. I had just finished school in Germany and went over to the States for just over a year to work as an Au Pair. I took the opportunity to revisit some of the places I had been to back then and share my memories with Dave. It was amazing and at some points quite emotional.
After our day in Philly came to an end we headed for Princeton which is just up the road and also the place I stayed at during my time as an Au Pair. Back then the kids I looked after were Courtney (10) and John (13) and I was more of a friend, personal chef and taxi driver for them. I loved my job, host mum, host doggie and the kids and boy they are no kids anymore.
Of course I went to revisit my host family, we went to their place for dinner and stayed over night so I could show Dave the beautiful Princeton campus and the cute town. This really took me back 10 years and the fact that nothing dramatic had changed since then (apart from the kids being adults now making me realise I am NOT a teenager anymore...far from it) gave me a wonderful feeling of comfort.
My wonderful host family Nancy and Paul. They got married just after I left, I wish I could have stayed a little longer to see them getting married.
The beautiful Princeton campus. Go and see
A beautiful mind
with Russel Crowe. It was filmed there while I was in Princeton. It's one of my favourite movies and I still cry at the end when I watch it.
Me and a Princeton tiger, their mascot.
I only got to meet Courtney again because John is living on the west coast in Santa Barbara now. She is just as cute as I remember her. What a beautiful girl.
After a Friday morning exploring Princeton we left our car there and took the train into Manhattan where we spend the weekend until Monday. More about that next time.....