It's time for another dress. I made this one with my upcoming holiday in mind. I wanted a dress that was screaming Spring, Summer, Fun and Fairground and I think I have achieved exactly that.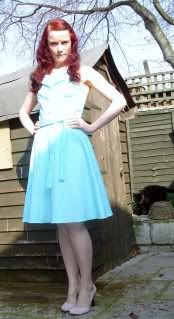 I frankensteined my trusted shirt waist pattern that I have now made soooo many times I am afraid to show any other versions of it now in case I bore you to death with it. But this one is worth showing as it's different to the original pattern. I turned it into a halter dress.
I used turquoise and white polka dot cotton, some left over broderie anglaise from my Spring Palette blouse, baby pink vintage-y buttons and baby pink bias binding around the edges.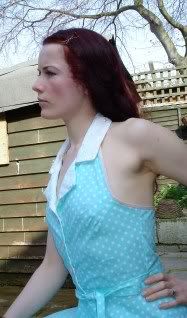 Now, who's going to buy me some cotton candy, a milkshake and a burger and fries at the next fun fair?