It's been a while since I have posted anything sewing related but that doesn't mean I have been lazy. I have just been working lots on customer orders and Vintage fairs which left me with little time sewing for myself.
I actually want to make up a small holiday wardrobe for my epic US- road trip in May so here is outfit number 1.
I made another pussy bow blouse but this time with cap sleeves rather than puffy sleeves. I think I might make a few more of them as they are super cute and go with, jeans, trousers or in this case, shorts.
I made the shorts out of a thick plain peach coloured cotton which is nice and soft but strong and herd wearing enough for shorts. They are not high waisted this time. I decided it's time for a different style. I also went for turn ups on the legs for extra detail.
I think this is a good combo that is cute and comfortable while on holiday.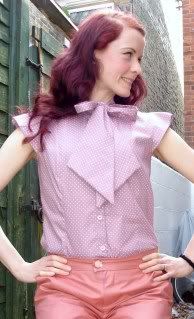 As you might have figured out by now, I have given up on Me Made March this time. I just couldn't stick to taking outfit shots every day plus sometimes my usual jeans and T-shirt combo was just more convenient than wearing cute dresses. It also wasn't always warm enough for them. I do wear a lot of my clothes but don't always do hair and make up to complete the vintage look if I am just at home sewing, making and creating. Maybe next time there is a Me Made challenge on, I will join again and stick to it.