And on and on goes the holiday report. The next stop along our journey was Vermont, where I went to visit my friend Cherie (who by the way has started her own blog on felting a little while ago. You can check it out
here
) Cherie and I have known each other since our early teens. We started out as pen pals in school and used to send each other all kinds of bits and bobs from pictures to hair clips and whatever else young girls like at that age (and as far as I am concerned...like forever) I couldn't wait for Mr Postman to come and bring me another letter from the other side of the world. Back then Cherie was living in Washington state so the other side of the world was almost true. Anyways, the years passed, I went on my Au Pair adventure and we finally got to meet at the end of my year in America. We got a long brilliantly and our friendship got even stronger. In the years to follow we both went to College and Uni and lost touch for a while in between, we both got married, moved across country/countries and as we started planing our epic holiday I knew I had to build in a visit to see her in Vermont.
This is us today in her garden. I would love to have a view from my house like this but unfortunately the view from my house is another house. The joys of living in the UK........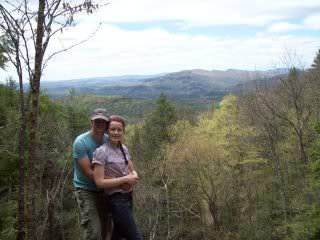 Hiking in Vermont...it's a wonderful place.
More hiking
Almost on top of the hill
Shopping in Brattleboro. I loved this little fabric shop. The proprietress is this amazing lady, a bit crazy but loves and lives fabrics, buttons and haberdashery. Unfortunately all the fabrics I fell in love with were not in my price range...I am just so tight when it comes to spending money on myself. Do you find it easy blowing money on fabric for yourself? Or in fact for anything for yourself?
Bought a vintage dress each.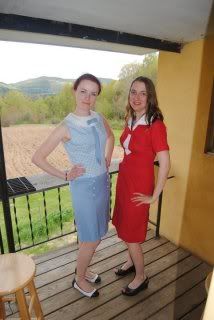 Very Dorothy and very Annie were the comments we got. I like that. Now go and get me some ruby slippers!!!
Sampling food. They had so much to sample there (which we obviously took advantage of and probably sampled every jam, condiment, cookie, cracker, cheese and smoked meat in this place) we didn't need any lunch that day. Yey for Vermont country store!!!
Trying hats... I really wanted a nice straw hat this year but I am glad I didn't waste any space in my luggage as it was bloody freezing most of our trip.
outside the shop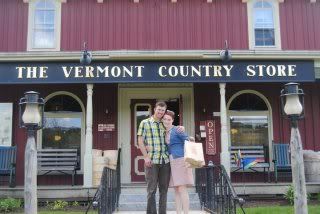 and yes we bought stuff too. Probably cost us less than all the food we ate in there. Oh well.....
And then we headed for Boston....