Hello Blogging friends, followers and other readers and thanks for sticking around. I have been MIA for a few months and apologise for the lack of posts.
I have been very busy with lots of different things that are not sewing related and some that are. But I am back from all the stress, all the excitement and all the fun.
I will try and catch up with everything I have done since my last posts and whatever else is going on right now.
I didn't finish Me Made May (yep that's how long I was gone here) as I got bored with taking pictures of myself every day pretty early on. I always try to do a Me Made challenge but it just doesn't really fit into my day to day life. I don't dress up every single day. I work from home, so there is no need for elaborate hairstyles, full on make up and frilly dresses. I admit it here, I am not a glamorous 24/7 vintage girl. I do too many things that collide with the amount of work necessary. Like for example I run or work out nearly every single day (I am marathon training so my life is hijacked by Lycra and trainers right now) and get super sweaty and messy (nice picture huh?) so I can't set my hair every night or morning. With my long hair I would never get done.
I spend a lot of time on the floor. I like cutting fabrics in my workroom floor, I hang out there a lot during fittings (pinning hemlines anyone?) and the best frocks are just not suitable for that.
So most days I am very boring and wear a lot of my shirt dresses (yes I do wear my own pieces a lot just not on a daily basis) or just jeans.
I didn't really want to include a whole lot of that in the blog. I might from now on as that is ME, too. I prefer the done up look but hey....if nobody is going to see me that day, I am not really that bothered.
Are you dressing up every single day? Do you make the effort or do you just keep it casual some days?
I have not really been sewing for myself at all lately as other things came along Like summer for example and I just really wanted to be outside, enjoying myself with my favourite guy aka my husband.

We spend a lot of weekends and free time doing up a house in Nottingham. We bought it as an investment property. My husband's family isn't far from Nottingham so the location made sense to us. We are moving to all sorts of places regularly due to my husbands job and his family is pretty settled where they are and always a point of return. The refurbishment was quite intensive and a great learning experience. But it was all worth it. I should do a post on it sometime.
Anyone interested in how to build a partition wall???
We also did a lot of fun stuff since May. Like travelling, our favourite activity. We went to Newcastle for our annual meet up with my husbands work colleagues (and their lovely partners) who are spread all over the country.
I very much enjoyed Newcastle. The mix of old and new architecture is quite eclectic in places (and I am not always a fan of that (hello disgusting 1960s communist blocks of flats and other hideous concrete designs of that time) but it seemed to work here.
I also went to hang out with friends in Germany during the European Championship and kinda got into watching football for a few weeks especially since I got to cheer two national teams. Then I took one of my bestest friends ever back to the UK with me and hung out some more.
In between all the fun stuff, I worked and sewed up a storm for some amazing ladies from all over the world and I also got to meet some of them in person. Thank you so much!!!!
And finally in August my husband got a little time off from work and we got to spend some quality time together. We went walking, cycling and hiking all over the place and even got to spend some time in the Lake District. OMG my new favourite place in the UK (kicked Brighton off the throne, sorry Brighton) If any of you reader lives up there in Cumbria, I envy you greatly. Anytime you want to house swap with a crappy army pad in Berkshire, I am all up for it.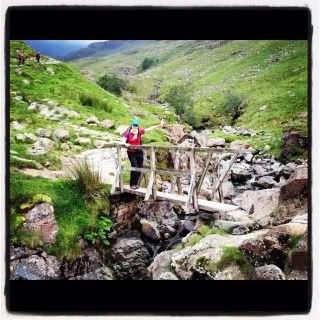 But more about all that in another post.
What have you all been up to?