Pink rose print shirt waist dress, first blogged
here
. I also made the head scarf. I'll be working on doing up a house in Nottingham through the long weekend and won't be able to wear any nice clothing. So I decided to make a few of these to still be true to my commitment wearing a me made piece every day ;-)
I wore the rose print dress with a purple cardigan, belt and wellies as I had to run some errands and it was chucking it down with rain....yet again.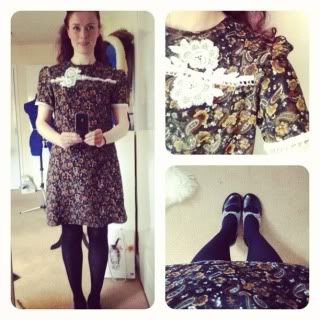 1960s crepe dress with lace applique first blogged
here
Strawberry print dress first blogged
here
And now I am heading off north to get dirty and covered in paint. What are your plans? Have a great bank holiday weekend!!!