Yes I did! I ran my very first marathon yesterday and haven't stopped grinning since that. I am either smiling because I am so chuffed and proud or I am pulling a grimace due to the pain I am in.
before the race: super sexy bin liner outfit
My husband and I ran the Abingdon Marathon, which is a relatively small marathon. About 1000 spaces but it looked like less participants to me. I guess this is due to some getting injured in training and then have to drop out. That must be heartbreaking.
This race was one of the best organised races I have ever ran. It didn't have a great crowd of spectators but the ones that came out were awesome at cheering us on. The scenery along a lot of the track is beautiful and makes up for the lack of people. It certainly took my mind of the task ahead. There were also a lot of marshalls all along the course and plenty of water stations, jelly babies and Lucozade.
I didn't have a time goal for this one. I only wanted to finish. Since I never ran a full marathon before I didn't know what to expect so I didn't try to put even more pressure on by setting a time goal. This strategy paid off big time as I was cheerful all the way through. I didn't hit "the wall" once and enjoyed the experience. It was hard, don't get me wrong but I usually get frustrated and "stuck" at some point when I am chasing a time goal. It did get tough after mile 19 (this is the furthest I ran in training) but I then started to take one mile at a time and made it to the finish line.
My blingy proof of achievement
my personal trainer superstar
Once we had made it (my husband ran with me, I am so lucky I have him, I don't think I would be the runner that I am without his support) it got REALLY bad. My legs just stiffened up and walking back to the car was a struggle. The only reason I got out of the car again was this:
and then this a little later: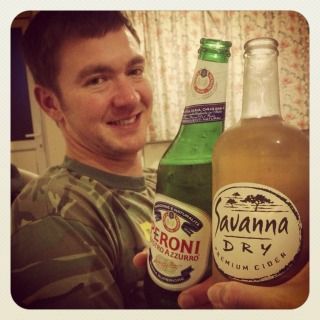 I could barely get into bed last night but once I made it I was sleeping like a stone. My legs are a little better today but I still have to lift them in and out of bed. I am also wobbling instead of walking and look like an old lady or a penguin. I hope I'll be fine again by Thursday. I am off to Hamburg for a few days to celebrate my friend's birthday. In case she is reading this HAPPY BIRTHDAY EVA!!!!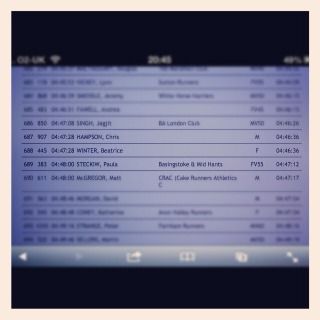 My time: 4:46 and for some reason they had my husband down as Chris? We finished holding hands....we are so cheesy ;-) that's why our times are the same
Anyways, end of story....would I do this again? Oh yes, despite all the pain, stiffness and soreness this is one of the best experiences ever. I have the Brighton Marathon booked in April. This is long enough to forget how crippled I am today and to get ready to do it all over again. I also have another half marathon booked in about 2 weeks time. I am hoping that after running the full marathon I will finally be able to get that sub 2 hour half marathon time. It should feel relatively "easy".
If you have toyed with the idea of running a race, any distance. Do it!!! Get a good training plan and go for it. It's the best feeling when you make it over that finish line and get that medal.
I am still wearing mine today....don't judge
This made me laugh. Apart from the bloody shirt, this is me today, and probably tomorrow, too.