They had an exhibition on wedding dresses there, inspired by the Royal Wedding last year.
This was the latest dress in the collection. Alexander McQueen 2011. The lace was beautiful.
Loved the 1920s flapper style number on the left. It had a shrug thing-y with a massive train that was beautifully beaded and the best bit of the dress.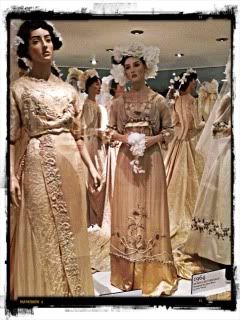 I was amazed how wonderful the colours were preserved in this dress from the late 1800s and the amazing handcrafted fabric
Fashions of the 20th century
Do you think he might have had a few Martinis too many??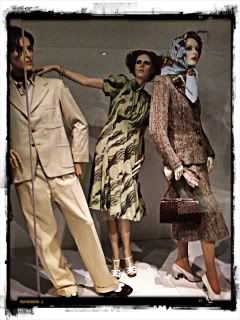 And of course some evening wear.
There war of course a lot more to see and you can also try on corsets and crinolines to get the feel of the period clothing.
We got a
combi ticket
for the
Roman Baths
and the Fashion Museum/ Assembly rooms for £15.50 pp. At first we thought that this was quite steep (we are used to £0 admission prices since joining
English Heritage
and visiting only their sites) but the two museums definitely fill a whole day with activity. There are Audio guides at both places and other little interactive activities. I highly recommend both.