This weekend was the weekend of many goodbyes for us here in Colchester.
From this week on I will be writing and blogging and sewing from the opposite side of London. We have moved to Arborfield near Reading. If any of you ladies live near, have great fabric shopping tips to share or would like to meet up for a cuppa and some thrifting,let me know. I will be the new kid on the block, Billy-no-mates and hopefully it'll change quickly.
On Saturday night we said goodbye to some of our friends and went for a nice meal and a few drinks afterwards. I got to wear my crepe dress, I was working on last week. I kept it pretty simple as the print stands out enough. Just a simple fitted bodice with a gathered skirt and 3/4 sleeves. I paired it with a little cropped jacket I made while we didn't have any Internet at home so it never made the blog. I will probably make another one as it's such a cute little jacket to just throw over anything. I usually wear a lot of cardigans for warmth instead of jumpers. This is a nice alternative if I want to dress it up a bit.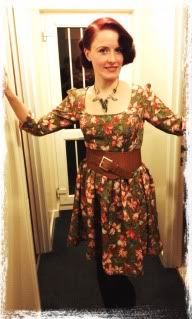 What do think about the hair? I curled it very tightly with a curling iron and after brushing out the curls, pinned it all up into a bob. I really like that look from time to time.