It's the week before our next and final move for a while. Fortunately enough this time we have a removal company doing all the hard work for us, meaning I can squeeze in some extra sewing time for myself.
I ordered a few different fabrics last week and picked the lovely floral print crepe to work on first.
I was a bit indecisive whether to turn it into a dress or blouse but in the end the dress won.
I am planning on wearing this out for a little leaving dinner and drinks with some of our friends. Proper outfit shots will follow.
BTW, I know some of you lovely readers are crazy cat ladies like me. Does your cat also magically appear as soon as the fabric comes out? Mine can be asleep somewhere in the house all day and never be seen. As soon as I get some fabric out.................this happens: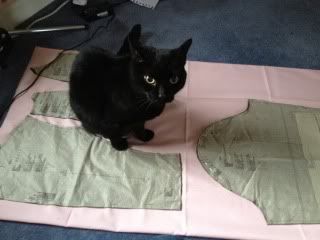 Please note the innocent but surprised expression on her face.