First of all, happy new year my dear readers. I hope you all had wonderful New Years celebrations and have recovered by now. We didn't go crazy this year as we just wanted to enjoy each others company after we spent last New Years Eve apart from each other. We had a couple of friends around and took it easy. Therefore I haven't got any amazing party pictures to share.
Instead I decided to share a new dress I made.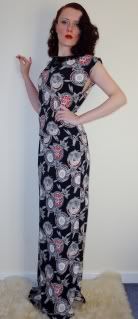 I made this dress in December using some printed crepe fabric I had in my stash for ages. I always wanted to use the fabric but didn't really have a clue what to make from it.
When I was beading the headband I watched some Ginger Rogers movies as I had just finished reading her autobiography (I very much enjoyed it and recommend reading it) and hence got into the 1930s styles.
As most of the dresses from that time are bias cut and not an easy thing to sew, I came up with this idea for a dress with minimal sewing efforts. It's basically just straight seams and rectangular shapes. The waist is elasticated and it buttons up at the back.
I sewed on some sequin-y bead-y things for detail and bish bash bosh a new dress was made.
Add some pin curls hair and dramatic make up and off you go. I hope you enjoy!!