I did wear it out to dinner with my husband on Valentines day but never took any pictures of the whole outfit. I was too distracted by my very handsome date. I hope you understand.
I ended up making another blouse I liked better and wore that with the skirt.
I bought this swallow fabric recently and had plans for it as a blouse. It's the same shape as blouse number one but with white collar and cuffs for a little contrast. I really like the fabric and might get it in other colours.
I could have ironed the skirt, huh...but it is a lazy Saturday here ;-)
Without the belt. I seem to wear this with everything at the moment. I boned the waistband of the skirt. I like my waistbands to be very high (trousers and skirts) so the boning holds them up and keeps them in shape better when sitting down.
This is blouse number 1, which was meant to be the Valentines blouse but after the heart shaped pockets never happened the whole shirt never did. Oh well, there will be a day I wear it. I promise.
Some twirling action and stupid face to go with it. (You've got to have one of those twirly pictures when presenting a circle skirt!!!)
Or you can wait for the wind to do the job and blow it up. This however doesn't seem to happen when ready to shoot the picture....
And this is how I'm wearing it today. Hidden away under a jumper, looking like a school teacher.
kitty picture of the day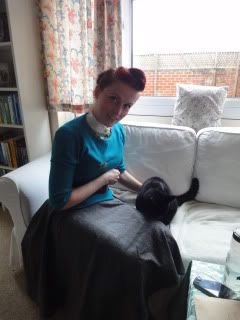 And this was me and my handsome date before we had too much wine and too much delicious food.
Thanks for your time. Let me know what you think. I know it ended up quite different from the Lena Hoschek look but it was just an inspiration, I didn't mean to copy it. Have a great weekend.