Another sunny day, another Spring-y/Summer-y dress....
I had this tulip fabric in my stash for ages and knew I wanted to make a dress from it. I also knew it would be quite striking once transformed into said dress. But after trying it on for the first time, I was really over the moon with it.
It's nothing special really as far as the pattern goes but I think the fabric print and the colours are enough to turn heads. The bodice ties at the shoulders and a full (VERY FULL!!!) gathered skirt.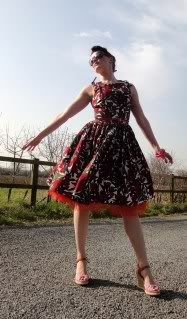 I made a red petticoat to go with this one for extra poofy Betty goodness!!!
without the poof
What do you think? Betty or not Betty?