I am behind on the Mad Men challenge and probably will be for a little longer. This is not because I am not working on it but because the fabric I have chosen for my project is not available until later this month. I shall be patient.
I have had a good look around the interwebs to find the dress to copy. It's not easy with all the beautiful fashion in the series and all the wonderful characters. At first I couldn't decide which character I wanted to chose and then of course which dress???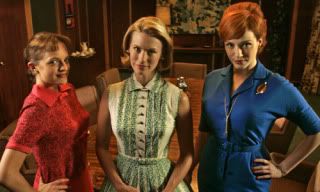 At fist I thought Peggy as I would probably get most wear out of one of her wardrobe pieces.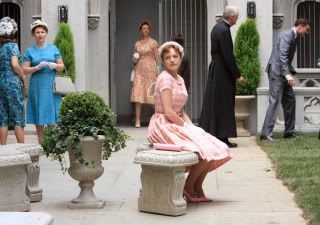 Then I thought Joan as I looooooooooooooooooooooooove her style but unfortunately I am just not blessed with her shape. I would need major sock support to fill a Joanie.....
I also love Trudy's wardrobe but couldn't find any good pictures online of something I wanted to make.
So in the end I picked the beautiful Betty Draper as my major inspiration.
I know there are many other stylish women in the series (show me one that isn't stylish) but I wanted to stick with one of the leading ladies.
I just recently started re-watching all seasons and in season one episode 2 (I believe it's episode 2) Don, Betty, Roger and his wife are out to dinner together and Betty is wearing a gorgeous white/floral print dress with a huge blue sash. I am absolutely in love with that dress and can see myself twirling around in it on Summer functions and events.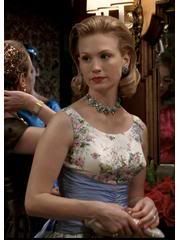 There are not too many pictures of it online but it's basically the one the Betty Draper doll is wearing.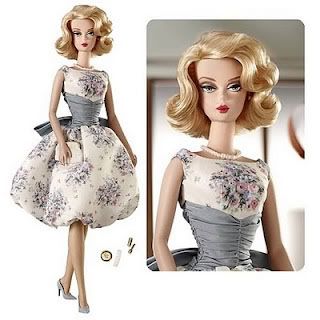 I decided to make the dress and sash out of this lovely floral print cotton and a matching blue plain cotton.
I am also planning on making a matching petticoat to go all poof Betty style. Hopefully I get this finished in time for April. My husband and I have booked a little short trip to the Isle of Wight. It would be nice wearing Betty's dinner dress out to dinner myself.
Are there any other Betty-dress-sewing-Mad-Men-Challenge-participants?