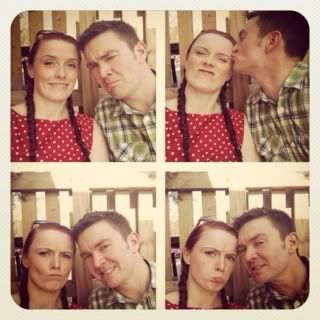 This weekend was so much fun. I am over the moon that Spring is finally here and has been around for more than just one or two days. Lets hope it stays like that for a while.
This means my husband and I are pretty much spending the whole time (this is weekend free time of course) outside. We just can't sit still.
I can happily announce that bike rides and cute bike outfits are back!!!!!!!!!!!! Betty Schwinn has been "around the block" a few times already but it wasn't worth taking pictures. I was still stuck in good old jeans and shirts and nothing worth mentioning. I get boring in the winter when it comes to clothes....
This weekend however dresses and colours came back. Welcome back, how I have missed you.
Note: I am wearing shorts!!!!!! It was cold to begin with though
Saturday started very un-vintage-y in running clothes. 12 miles before it got too warm. I have just over one month of training left before the half marathon in April. That is how this crazy girl is celebrating her 30th birthday and 4year runniversary. Maybe I am trying to prove myself that being 30 isn't so bad if I can manage to run that far???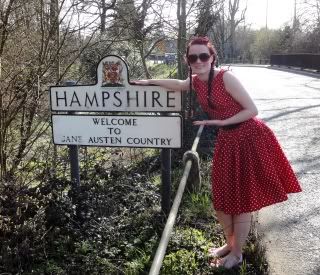 I am wearing this dress from many many moons ago...
The rest of the day was spend on the back of our bikes cruising the country side with the odd pub stop here and there. You've gotta reward yourself right?
And today was more of the same. More cycling, a picnic and 2 pubs. A relaxed weekend.
this dress is another one from the past, here
We nearly kidnapped this cute little fella.
He was just running around on his own and then hung out with us when we had our picnic. We tried calling the number on his collar to find out who he belonged to but the number didn't work. Seriously people, what are you thinking? Do you want your doggy back? If not I'll have him. He was the sweetest dog ever.
He started following us but after a while we reached a house along our route and he stopped following. The garden wasn't fenced so I assume this was his home. I hope it was.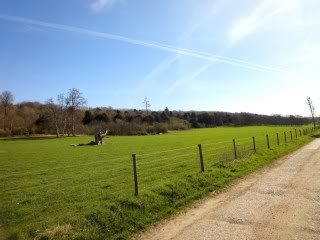 I hope you all had a wonderful weekend and enjoyed sunshine like we did here? What did you do?