It's time for part three on how I got into running and finally multi sport. You find
part one
and
part two
of this series here. For the first three years of running I was kind off training in phases. I would train for a few months, book a race and then once the race was over I would loose interest. So for a few weeks I wouldn't run and then get to the point where I felt my fitness slipping away. Then I would usually get back into it, feeling frustrated with having to take a few steps back and rebuild the fitness/endurance I had lost.
As mentioned in previous running post in 2010/2011 my husband went on tour to Afghanistan for six month over the autumn /winter months and I was left with lots of free time by myself. I was also made redundant at the time. I picked up running again to get out of the house and try to avoid the winter blues that way. I felt like I needed a new goal, something to focus on and decided that maybe I should attempt training for a half marathon. So I did, however for some reason I never booked a race. So I was training with no race day ahead and eventually burnt out or lost interest, I can't really remember. My husband and I also did a lot of travelling once he got back from tour and in that time I wasn't running too much. I learnt a lot from this experience though. I learned that I need a goal, a race and a strategy. You can't just consistently build up and increase distance or intensity or both.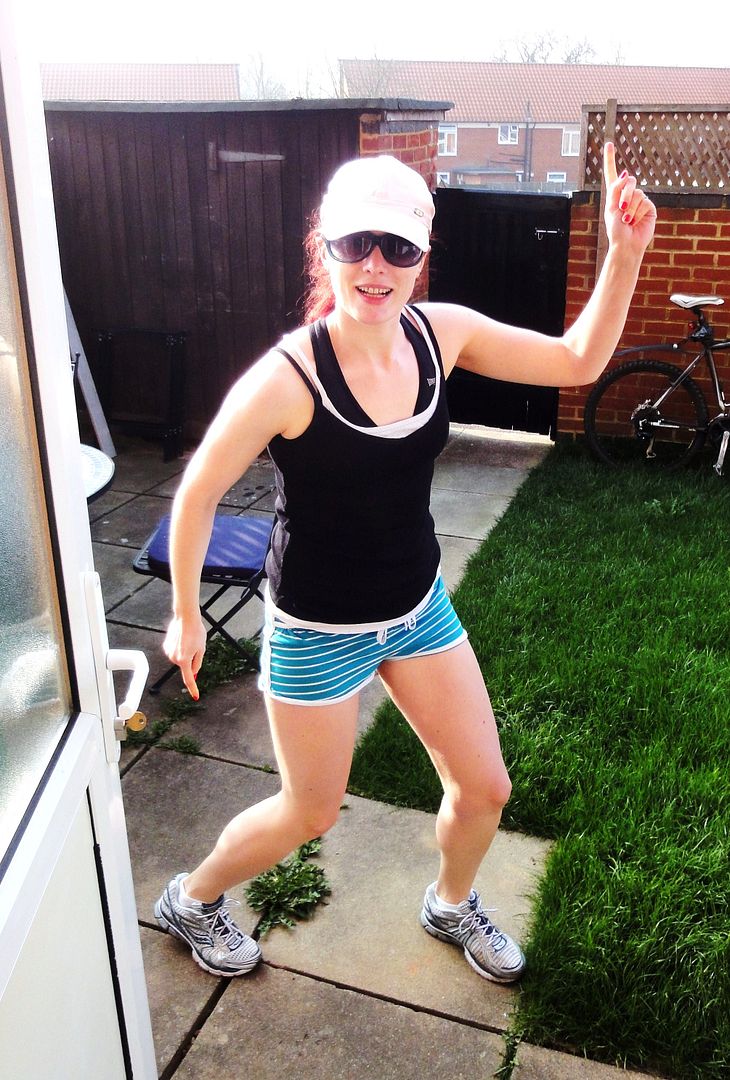 We moved to the outskirts of Reading in January 2012 due to a course my husband was/still is taking here. I revisited the idea of running a half marathon. I picked the Bracknell half in April and used a runners world training plan to prepare. I also ran a 10k in Winchester as part of my preparation and really enjoyed following this plan, seeing progress as time went past. The actual race was great, although I had a cold on the day and got soaking wet as it was raining all day. You can read all about that race
here
Totally soaked and exhausted after my first half marathon
Once I had bagged that half marathon I felt like I really enjoyed the longer distances and started toying with the idea of running a full marathon. You know just one to cross it of the bucket list. I found the Abingdon marathon in November and signed myself and my husband up for it. We didn't get into the race because it was full and had to stay on the waiting list in case a space became available. I thought, who is going to drop out of a marathon? I couldn't find any other marathons for that year and decided to sign up for Brighton 2013 instead. I love Brighton and running there would be amazing.
But then in July I got the news that we had made it into the Abingdon race, hooray!!, and training began. I tell you it's hard work training for a marathon throughout summer. (maybe not this year as there isn't even Spring weather apart from like 3 days scattered over the past months) If you want to train for a full marathon I would advise booking a Spring race instead of an autumn one.
In November 2012 my hubby and I ran
our first full marathon.
It was his first 26.2mi /42.2km, too. I am so lucky my husband is so supportive. He does his own training and trotts along with me on long runs, which must be so boring as I am A LOT slower than him.
after my first marathon
I was in A LOT OF PAIN for about a week after running this race. On the first day I could not even get up from the sofa by myself. My husband had to lift me into a standing position. I had to physically lift my legs to turn around in bed and I had to go up and down the stairs on my bum. It was bad!!! But it got better and I knew I would do this again. Well, I did about
six month later in Brighton.
The days after were painful again but not as much as the first time. The human body is an amazing thing and adapts well to stress and only ends up being stronger.
I also ran a 10 miler and two more half marathons in 2012 and realised that I am much more consistent with my running if I keep setting goals and have events booked along the way. After running my first full marathon, I felt like I can do anything I set my heart to. If I don't know how, I can learn it or train and practise for it but whatever I want to achieve, I can achieve. So after having conquered the almighty marathon, I knew I would not go any further than that. I am not interested in ultra running (yet, who knows what my crazy side will set my mind to in the future).
And that is what sparked the idea of triathlon but more about that next time.
Are any of you running any races in the near future? I know
Porcelina
is running her first 10k soon. You should head over to
her blog
and wish her good luck.