Last Sunday was finally THE DAY, I would compete in my very first triathlon. This has been a dream of mine for a while now.
I will do a post on how I went from just running to multi-sport soon to continue my how-I-got-into-running-posts. Here are
part 1
and
part 2
of that series.
I was so exited about race day that I already thought the Saturday the weekend before that it was the day of the event. Pretty silly but I guess it helped getting my nerves out of the way. I couldn't sleep and was quite nervous and worried the whole day so when I realised on Sunday morning it was all false alarm and the race wasn't until the following weekend, I was very relieved.
This past Sunday started at 4:00 am for me but this time I had gotten some sleep and I was all calm and exited to go. I had all my kit packed the night before and just had to eat, put on my tri-suit and drive to the lake. Registration opened at 5:45 but we didn't get there until 6 am. I registered, racked my bike in the transition area and set up my space: helmet, cycling gloves, shoes, food (gels, water and sports drinks just in case) and a few different shirts in case I needed to wear something over my tri-suit when coming out of the water. As this was my first triathlon, I didn't have a clue whether I would be cold in my wet clothing after the swim.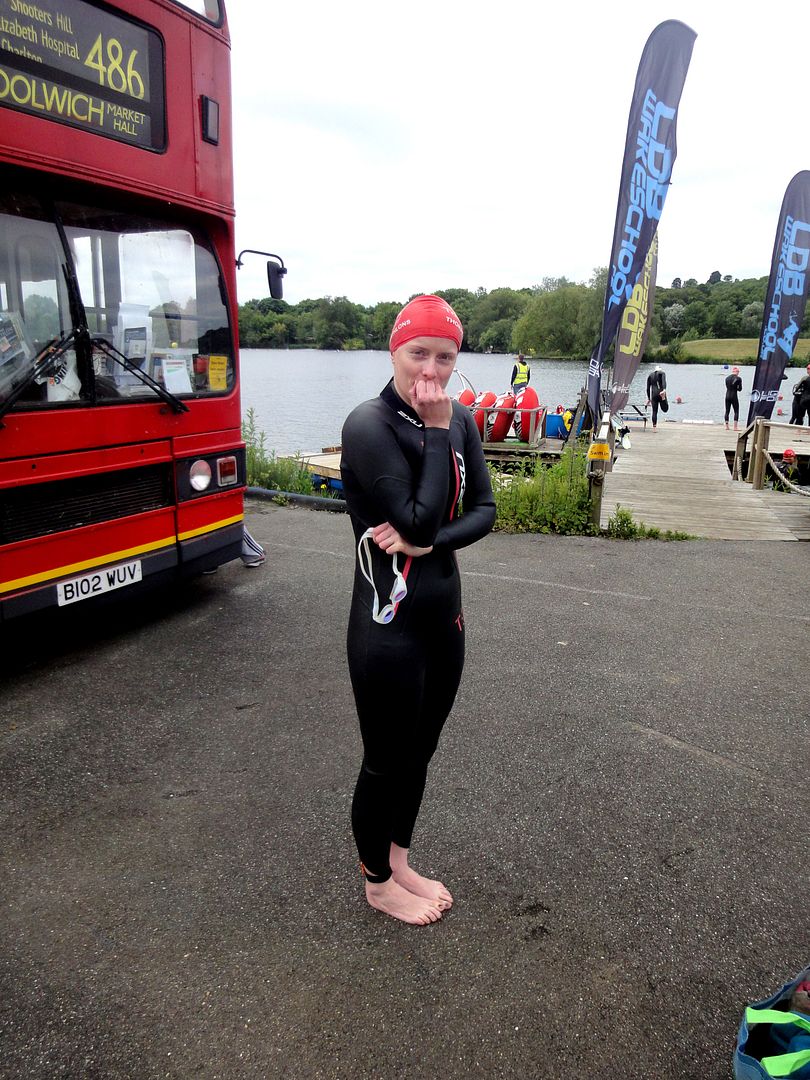 nervous much?
After setting up I had plenty of time to put on my wetsuit and make my way to the start. All participants got a short race brief and then it was time to go. I like the way the swim was organised. The men younger than 40 went in first, 10 minutes later the 40+ veteran men and then all women at 7:25. The swim is still the part that worries me most and I have heard horror stories of people swimming over other people and it all being a big mess. So with swimming being my weakest discipline and me being afraid to be pushed under I decided to start at the back of the pack. I also had not been in a lake for about 2 weeks so I was a little worried I would have wet suit issues again.
So anyways, once the veterans had taken off for their race, the ladies could get in the water to get acclimatised. I wanted to go in as soon as possible as I had problems adjusting to the cold of the water against my face in previous lake swims. It kind off takes my breath away and makes swimming that much harder. To my surprise the water was a lot warmer than at my previous lake swims and I felt comfortable very quickly. At this point I finally relaxed, forgot about all my anxieties and looked forward to the race.
The swim was so much better than I thought. It took me 20 minutes to swim the 750 m course and I didn't come out of the lake last. That was one of my goals for the day.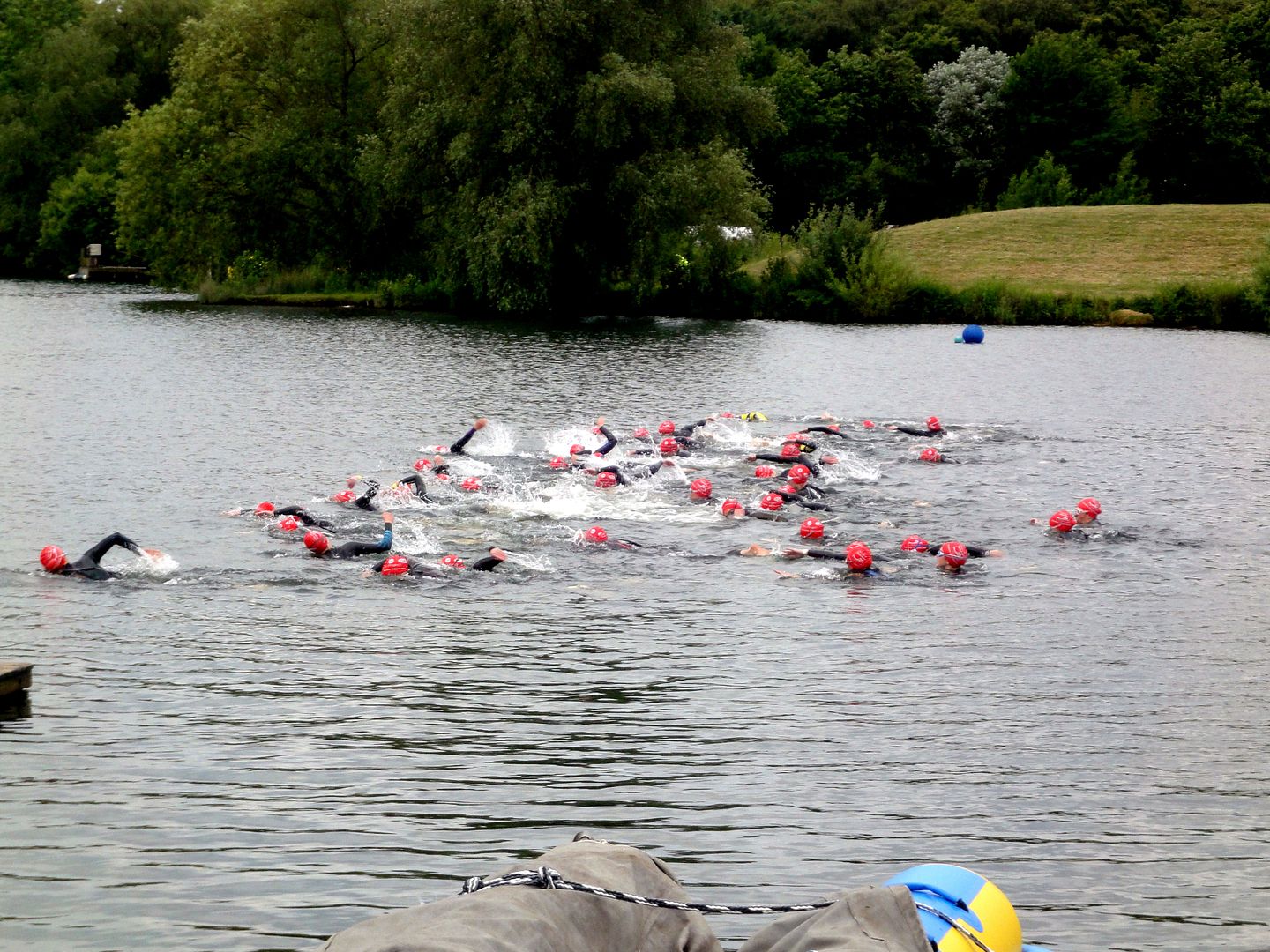 approaching the end of the swim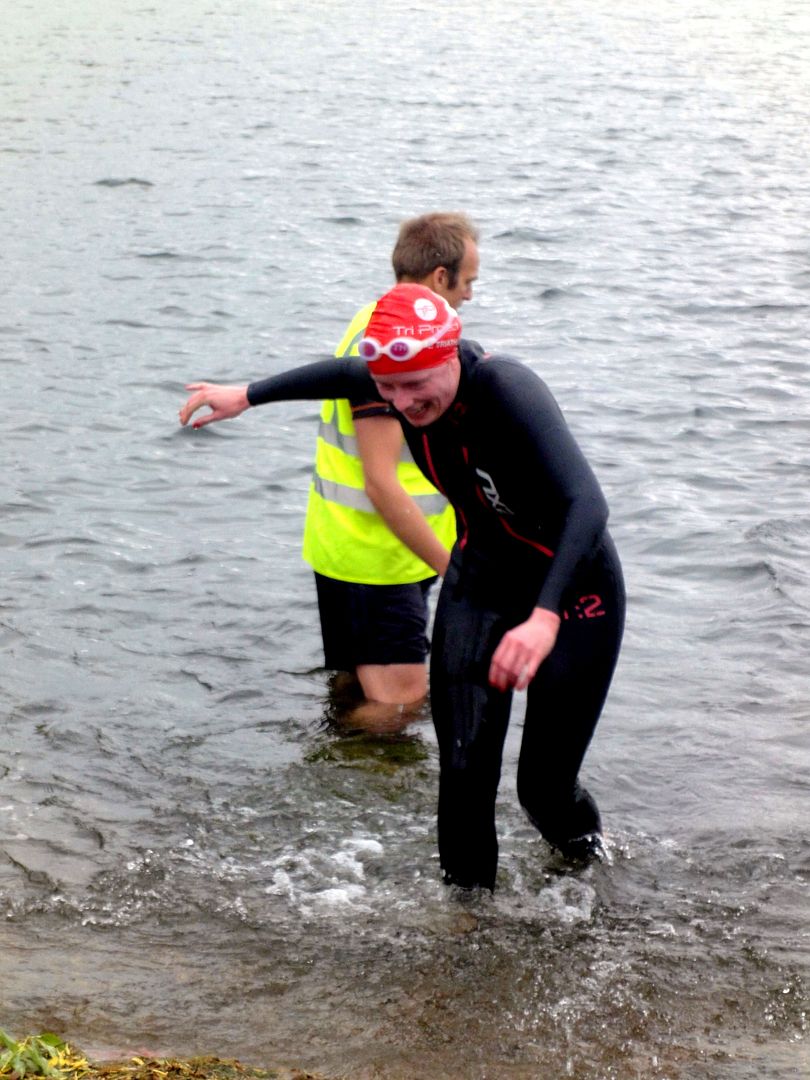 The first transition took me just under 5 minutes. Try to get out of a wetsuit in a hurry, then dry yourself as much as you can and get on some socks and shoes....sounds easy but man, it's hard work.
Next onto the bike part, 20 km road cycle. The first thing that happened was that my chain had come off while my bike was racked in transition but a nice marshal guy popped it back on for me while I was getting ready for the cycling. I then took a wrong turn on the course but thankfully realised it after just 100 m or so and then my chain came off again on the course. I managed to get it fixed and finished the cycle after 52 minutes.
My second transition was super fast, just about 1 minute 40. I only had to rack my bike, take off my helmet and cycling jacket (I can't believe I wore a cycling jacket....what a newbie I am....it's like dragging a parachute behind) I'm currently not cycling with clip in shoes so I was already wearing my running shoes on the bike and didn't need to change them.
I took a sip of sports drink and off I went on the 5 km run.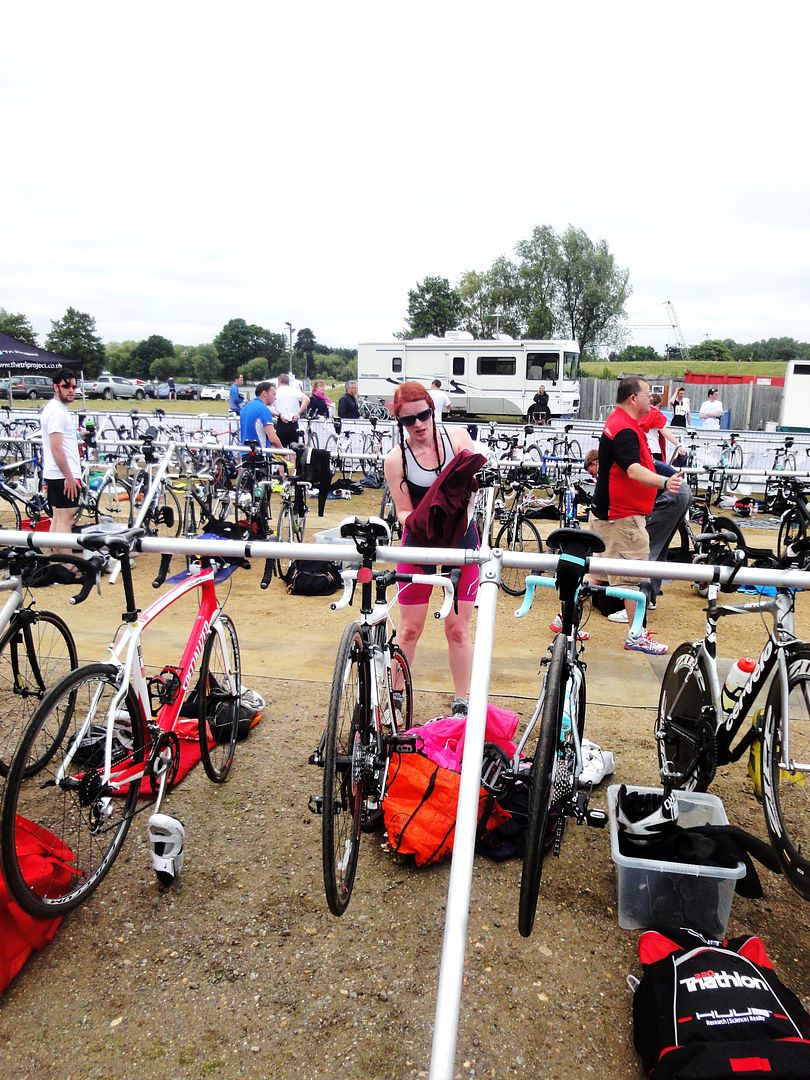 The run was a trail run, which I think I had read before but must have tried to ignore as a fact. It was a very wobbly run on the first kilometre. The uneven ground and my legs having just cycled 20 km as hard as I could, didn't really help but eventually I got into it and finished the run in 28 minutes.
My total time was 1:45:30 which was about 15 minutes faster that I expected. I was aiming for a sub 2 hour finish but that good??? Who would have thought. Needless to say, I am hooked now and can't wait to do it all over again. I think I lost my last fears of lake swimming that day. I could even imagine going in just a bathing suit now if the water is warm enough. Of course looking at the wonderful?!? English summer we are having here, I won't have to prove that any time soon.
I must say, the race was very well organised. Everyone I met on the day, organisers, helpers and athletes, were super friendly and encouraging. I wasn't the only newbie there which was nice. And there was no difference being made between the elite and the first timers.
The only bummer was, that there were no medals for the finishers. Just a T-shirt :-( I love my medals.
But then I can't find my medal from my first 5 km race either. So no firstie medals in my collection.
Do you collect your race medals? Do you do triathlon, running or think about giving any of it a go? If you do, go for it. You will never regret it! EVER!