A few weeks ago I was contacted by
The Amazings,
an organisation where retiring or retired people pass on their skills and knowledge in workshops and classes and currently offer about 200 real life courses.
Because their classes have been so successful,
The Amazings
are now branching out into online classes everyone can take part in, in their own time, revisit and retake as often as they like.
I was asked if I was interested in checking out their website and trying a class currently available. Since I am always interested in learning new things, I jumped at the chance.
There are currently 8 online classes available with more being added every week. There is no charge to join the site but the classes themselves range in price from £8 to £20.
I decided to try out the
retro hair do
class as this is a subject I am always experimenting with and want to learn more about. The retro hair do course is £12 and for that you receive
video tutorials for three vintage hairstyles with a modern twist. They are not authentic vintage but rather vintage inspired. A very charming and wonderful teacher Michael, who is a hairdresser and knows his craft, explains step by step how to recreate each style and provides tips and tricks alongside the videos like little "hand-me-outs" You can also communicate with fellow classmates and Michael, in case you feel like you need more information and help.
Michael is very sweet and seems to love his profession as a hair stylist. You can tell he is very enthusiastic and very knowledgeable about what he is doing. I recommend watching all three videos first before getting started on your own hair. The setting of the hair is very similar for all three styles and is shown in each individual video. Michael explains a few extra bits in each video which will be useful, especially for people new to vintage hair styling. If you only watch one video at a time, trying to recreate a style you might miss a few bits of information for a successful finish. What I like is that Michael gives a few tips on what products to use and how. I also liked his little stories very much.
Now, how did I do?
setting my hair, it pretty much looked the same for all three styles
I decided to have a go at all three hairstyles to see if you really can recreate them all by yourself with the help of this course. You will need a set of hot rollers for all three hair dos. Michael explains and shows how to roll and set your hair.
The first style is a 1930s inspired chignon to one side of the head. I really liked that style on the model and hers is a hair do I have not previously tried. (sorry I don't have a picture of her)
Style number two, rockabilly.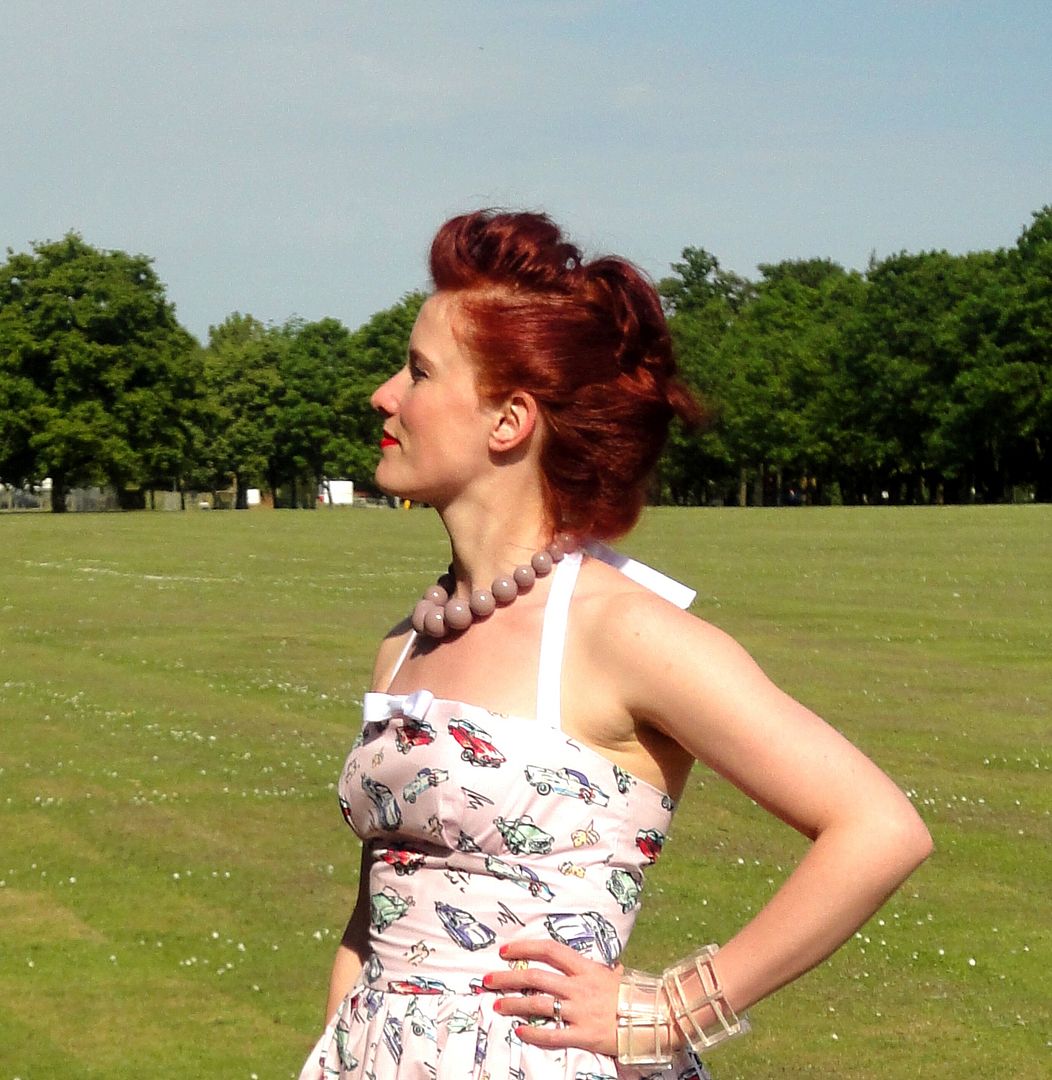 The rockabilly inspired style. I'm not 100% into this do. It's a more messy take on the quiff and I prefer more sleek looks for myself. It did however turn out pretty much like the hair style on the model.
The third style is a 1960s Bridget Bardot inspired beehive. I love this style but I'm not sure it suits me that well. I haven't got layered hair so I had to tuck the front of my hair to the sides.
My verdict: I really like the idea of
The Amazings
. I would like to try a real life class in the future and see what they are like. The online class format reminds me a bit of the
Craftsy
courses. I have never taken a craftsy class so I wont know if they actually are similar or not but the concept seems to be. If
The Amazings
keep doing what they are doing and add to their repertoire, I can't see why they won't become as popular.
As far as the online class goes, I think it is a great class for people who want to try out some retro hair dos. The ways they are styled are very much geared at all girls and women who like a bit of a hair do that stands out from the mass, not necessarily just for vintage and retro enthusiasts. The video tutorials are easy to follow and guide you to a satisfying result. Beginners might have to have a few goes at using the hot rollers and maybe each hairstyle won't be perfect straight away. But with time and practise, they will get there in no time. I like that you will learn techniques, little tips and tricks on how to do it by yourself (not with a wonderful hair stylist, styling your hair for you) and what products to use.


I would have liked to see an alternative to hot rollers for those people who don't own a set and don't want to buy one just to have a go. But maybe Michael will have an alternative if you contact him via the website for help. I didn't use the interactive possibilities. I also hope the prices will go down with increasing interest. I don't think £12 is too much for a class like that at all but with countless free tutorials on youtube and vimeo etc. there is a lot of competition.
Now go and check out The Amazings for yourself, try out a class and see what you think. There is anything from knitting to sewing to diy cosmetics etc.
Disclaimer: I got to try the online class for free however all opinions are my own.