Last Sunday was gorgeous and you guys know what this means.....correct bike ride.
We went on a short one this time (just over 1 hour) to
Dedham
which is a very cute little village just outside Colchester with cute old timber houses, an old church and church yard, old fashioned pubs and tea rooms and a very cool
Arts and Crafts Center
. As promised I was wearing a new dress I haven't shown here yet. It's just a little plain shift dress I made just before the holiday.
I had ordered the fabric from
Fabricland
a while ago (it seems like they are not doing it any more) and because it's quite a busy in your face print a simple shape of dress made sense.
close up of the fabric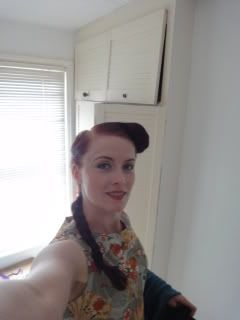 hair and make up to round up the look of course
in action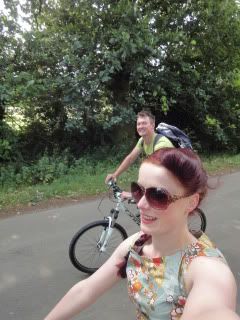 working the dress for you
There was an antiques fair on in Dedham that day and of course I had to have a browse. Unfortunately if it's called antiques fair the prices are twice as high to a vintage fair and they are already taking the mickey. I manages to score some white buttons for £1, a brooch for £3 and about 6 of the cute red terrier buttons for £4. They are worth the money. So cute, but now find a project to use them on. Any ideas?