Remember when my husband took me out to visit
Audley End House ad Gardens near Saffron Walden
last year for my birthday? We went back this year as they opened the stables and more of the kitchen garden plus we wanted to come back and spend some more time in the house and have a closer look at the taxidermy collection. Last time we came was in April and they did guided tours not leaving enough time to have a closer look at some of the stuff exhibited in the house.
You are not allowed to take pictures in the house which is a shame as it's beautiful inside.
We brought a little picnic along with us and sat down by the lake to eat. Within seconds we were surrounded by some pretty determined ducks and ducklings trying to steal as much as possible. They were so cute and tame, they even ate out of my hands. That alone made the day perfect already.
outside the newly opened stables
outfit was nothing new, black shirt waist dress with thrifted cardigan
They have a little area inside the stables for kids (and me!!!) to dress up in ye olde style clothes...had to try on a hat (very Madeline I thought) and look silly. It went well with my oversized jacket look (I was cold as usual and didn't bring a jacket....as usual and got Dave's to keep me warm.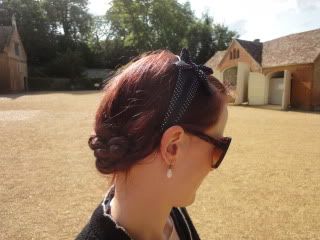 I was proud of how my hair turned out that day. Very vintage, very stately home maid-ish.