I finished this little number yesterday. It is another customer order and worth sharing with you guys I think.
One of my customers fell in love with a dress to wear to a wedding but it was way out of her budget so we discussed the possibility of making something similar. Most important was the colour and material. She wanted a gold silk so I send her a bunch of swatches and she picked a very nice deep gold.
The design is a simple shift with an A-line skirt, small cap sleeves, a front yoke/pocket, stand up collar, little pleats in skirt between front yoke panel and side skirt panels, optional belt and I later decided to add a small pleat into the back seam too, to pick up on the front detail and give the back a little something at least.
I drafted the pattern myself, fiddled around with the front yoke pocket, found a cute 1960s vintage belt buckle to match and then I completely fell in love with the design that I might need one for myself now.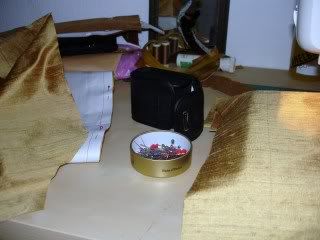 in pieces, the pinning begins
I overlocked all raw edges first to prevent unravelling
the back
the front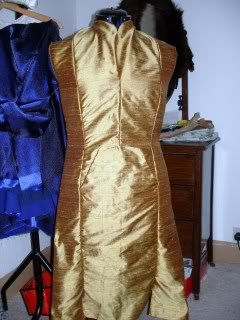 the shell, still unlined at this point
finished
loving the collar
cute 60s belt buckle
little pleates