It was nice to have a weekend to ourselves again after last weekend's wedding party get-away. What else are we going to do with it than of course go out cycling.You can see ever since I got that amazing bike we are out at every chance we get.
The weather forecast for Saturday was good although it rained all night from Friday to Saturday and the sky didn't look promising at all when we left in the morning. We set off to cycle to Halstead which was about 18 miles through country roads, a nice distance.
As promised I did my bike proud by dressing the part. I didn't wear a new dress but one that would not look too bad in case I got rained on. You have seen this one before, apologies for repeating a dress but it's the first time I have worn it on Betty so I hope it still counts as a new cycling outfit.
This is outside the
Townsford Mill center
in Halsted behind us. It's an amazing two floors antique shop and a restaurant on the ground floor. I don't know if that's any good as we are picnic people on our bike rides but the antiques place is amazing. Very expensive but fun to browse though.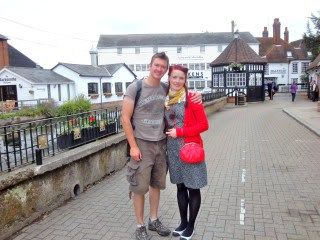 I loved how my hair turned out that day. I did a victory roll on each side and then one in the front. The back is just two braids.
And later on we finished off the day with a few drinks amongst friends.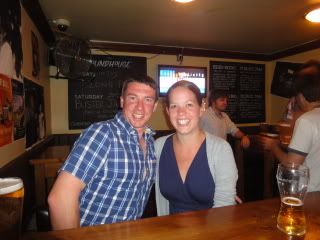 Matt and Helen
Charis and Harry
and of course us.